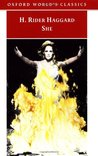 She by H. Rider Haggard
My rating: 3 of 5 stars
I have been a fan of H. Rider Haggard's work for quite a number of years though my reading of his works have been limited. For a time, I absolutely loved his King Solomon's Mines and the sequel Allan Quartermain. When I discovered that the books were available in audiobook from from librivox.org, I had to download the other ones and read through them.
This book, She, has been on my list for quite sometime knowing that it has influenced many other writers like C.S. Lewis' Queen Jadis and "She who must be obeyed" has been a line used in a few movies.
I found this book to be a rip-roar adventure just like H. Rider Haggard's other works but found the story weaker than his other works. Ayesha was characterized very well and I thought the character was very fascinating. The problem I had the most was the ending. Though I won't go into detail, it felt like the writer had accidentally designed a too powerful character and had to use a dues ex machina to solve the story beat.
This book is fascinating to read in the collection of imperial Victorian literature of the time and though our modern perceptions have changed and can consider this book racist, I found that H. Rider Haggard had kept it to a minimum focusing more on a story in Africa than anything else. If you can look past these, I think you will find a very interesting story.